Introducing the ElMod Thinktank FUSION ALL IN ONE Tank control and sound.


100% MADE IN GERMANY

The ThinkTank Fusion PRO provides control of all functions of your tank, half-track or truck with one or two driving motors and supports steering by chains and/or up to three steering axles. It is designed for anything from the basic to the more elaborated vehicles with sophisticated functions.
---
Requirements
Your own RC Tank or tracked vehicle and a common RC-radio and receiver of your choice with 4 - 8 channels.
General:
Configure every aspect of your tank with over 100 parameters on your PC, Notebook/2in1 or MAC.
USB cable is provided and software is a FREE download.
Change parameters and control of all vehicle functions, and view status information.
Individual vehicle profiles may be created and saved.
Operation with NiCd-, NiMh- or LiPo-Batteries with a voltage between 7.2 V and 12 V.
Under voltage shut down for protection against deep discharge.
Overvoltage shut-down.
integrated 10 A mini fuse for the protection of the drive system.
integrated, resettable SMD-fuse for the protection of the turret functions.
compact size: 92mm x 55mm(3,6"x2,2").
What you get:
ready to use electronic board
power supply cables
two connecting plugs for drive motors
all necessary cables for the RC receiver
rotary knob for volume control and connecting cable for loudspeaker
three cables for additional light sources
USB cable for connecting with a Windows® or Apple® computer
Manual
Recommended accessories
IR battle extension (optionally for connecting with the Tamiya®Battle Unit or the ElMod® Battle Set)
connecting adapter for Tamiya® tank vehicles
Details
Drive
two 10A strong chain motor drivers (up to 30 Amps peak each motor), short circuit and overload protected.
optional connection of up to two external drivers for alternative motor types (for example brushless motors).
physics engine 2.0: a driving experience of commanding a heavy vehicle by simulation of mass inert.
all parameters of the physics engine may be adjusted by a PC or Notebook.
Steering
configurable steering with chains (may also be deactivated).
configurable spin turn (may also be deactivated).
steering of up to three individually configurable axles by sevos with optional speed dependent steering lock angle.

Turret and weapon functions

HengLong® compatible turret connector.
optionally available adapter for a Tamiya® turret group.
full proportional turret rotation with a motor (max. 2 A).
full proportional elevation of the main gun with a motor (max. 2 A).
control of a shot/recoil motor (max. 2 A).
support for Tamiya® barrel recoil mechanics with independently configurable retraction and extraction speed.
simulation of the barrel recoil by a servo with independently configurable.
retraction and extraction speed and configurable steering lock angle.
connection for Taigen® Xenon flash and HengLong® LED muzzle flash.
MG muzzle flash may be connected directly by LED with configurable rate of fire.
full proportional traversion of the main gun by a servo.
full proportional elevation of the main gun by a servo.
support for a auxiliary MG with own rate of fire and own shooting sound.
Lighting and miscellaneous functions
one to four LEDs may be connected to all light channels.
no further wiring or additional resistors are necessary.
all light channels are short circuit protected. The LEDs can't be damaged by false polarity.
included colour-coded cables with polarity reversal protection.
front light may be dimmed and switched on and off by the radio.
an additional light (for example camo light) may be dimmed and switched off by the radio.
the brightness of the combined rear lights and brake light may be adjusted separately.
support for a smoke unit with smoke emission depending on engine load and motor sound.
optionally available additional PCB for further light sources (available Q3/2014).
widely configurable control of additional functions by servos, e.g. activate/deactivate windshield wiper or a hatch.
Sound Generation
Support of all ElMod sample sets and the new ElMod NextGen Sound Technology for particularly prototypical sound playing.
integrated sound unit plays several different sounds simultaneously.
Sound types:
various sound events: several motor start sounds with distinction between coldstart and warmstart, several engine off sounds. Engine sounds for the movement with simulated gear change, distinguishing between acceleration, cruising and braking. No audible steps between the engine sounds.
optional collateral driving noises such as chassis squeal and optional surrounding noises.
turret rotation sounds with optional distinction of operation with or without main engine support.
sound for elevation of the main gun.
shooting sound for MG.
optional shooting sound for auxiliary MG.
fire of the main gun (single shot or full-automatic fire).
variable sounds for the projectile's impact with simulation of the impact in different distances.
up to 8 additional user sounds that can be freely triggered by the user, like a siren/horn or battlefield sounds etc.
plain text announcement if battery voltage is too high/low.
sounds for the IR battle mode.

separate volume control of every sound type (for example the engine noise) and extensive configuration of the sound parameters.
adjustment of the entire volume by the provided rotary knob.
adjustment of the volume by a slide/knob on the radio.
all sample sets are provided on a microSD card. They can be activated by an application on your PC/Notebook.
integrated digital audio amplifier for the connection of a 8 Ohm loudspeaker.
Servos
connection of up to three servos with the operation modes barrel recoil, steering, main gun elevation and traversion, hatch function, windshield wiping .
max. 1,5 A constant current consumption for all servos together.
Radio control
control with a common RC gear (radio and receiver, 40 MHz or 2.4 GHz) with at least two channels (acceleration and steering). Five channels are necessary for the control of all options.
Connection of up to eight channels. Two channels are reserved for user defined functions. One channel is reserved for the remote volume control.
The receiver does not need an additional battery. 5V BEC are supplied.
IR battle functions
connection with an optionally available adapter to Tamiya® Battle Unit or ElMod® Battle Set.
simple configuration with three DIP-switches to select your tank class for battle: light, medium and heavy
Set the battle type: 'infinite lives' (vehicle returns to battle after being destroyed) or 'Hard Core' (vehicle stays destroyed until it's switched off an on again).
Which ElMod FUSION board do i need?

Here is a quick comparison chart for you to compare the ElMod control boards: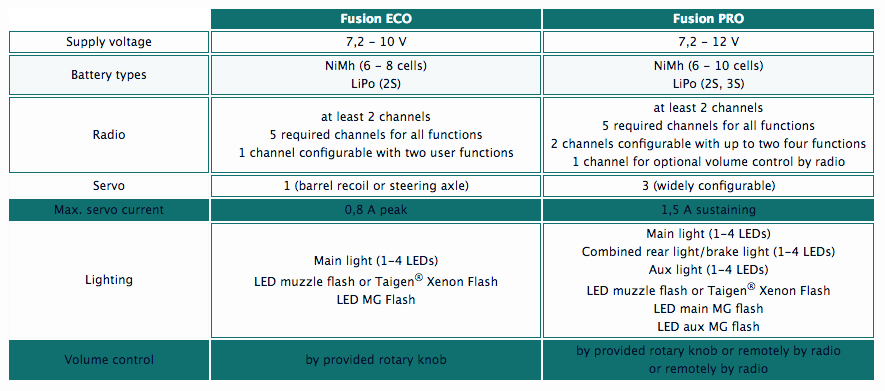 ---
Manual is supplied with product

---